Dr. Jameel Ahmed BAIG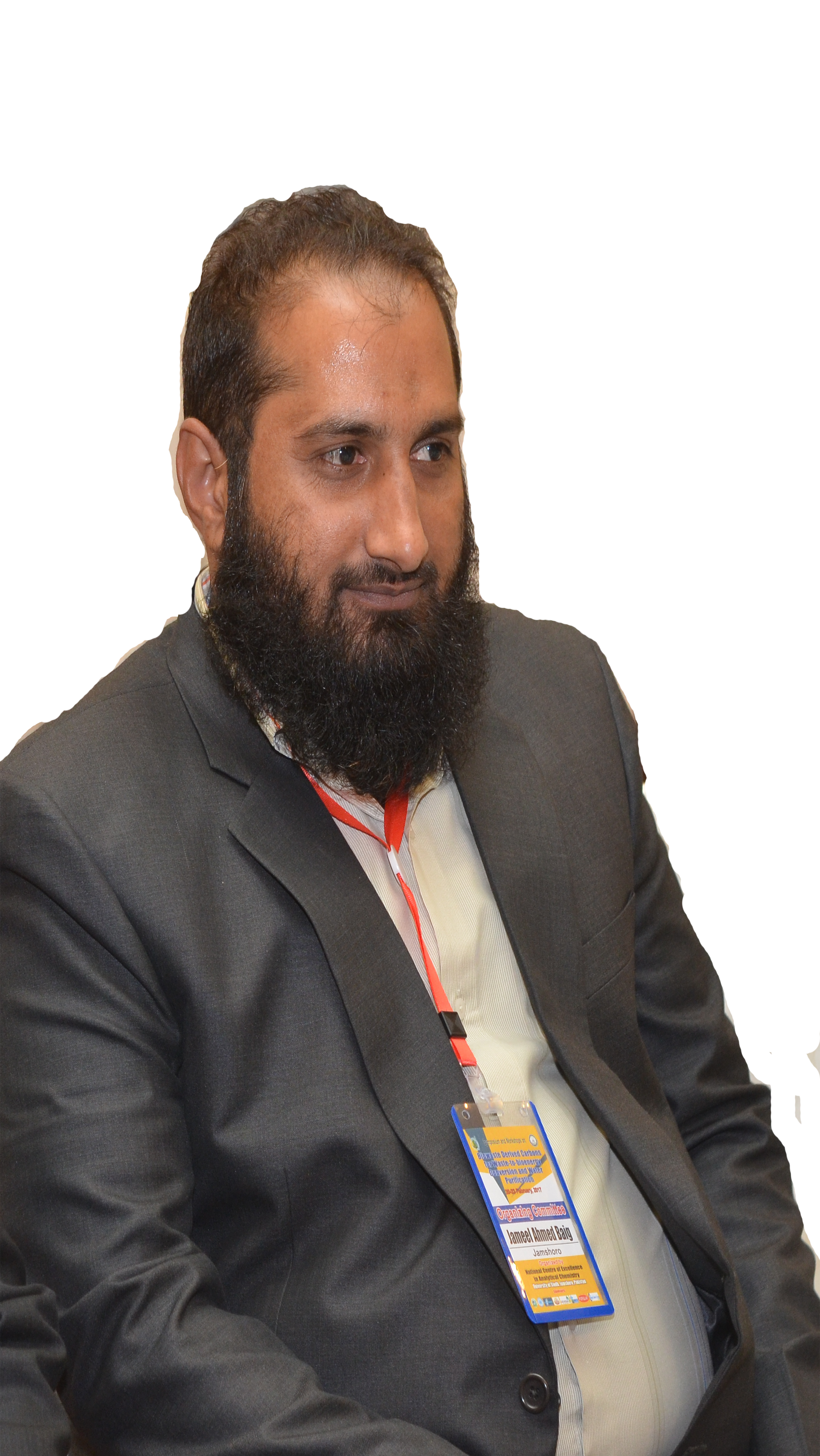 Dr. Jameel Ahmed Baig is an assistant Professor of Analytical Chemistry at NCEAC, University of Sindh Jamshoro, Sindh, Pakistan. He obtained his undergraduate degree B.Sc. (Honors) in Chemistry (2003), and M.Sc. (Final) in Physical Chemistry from Shah Abdul Latif University, Khairpur, Sindh, Pakistan.
He has served as an editorial board member for the Pakistan Journal of Environmental Analytical Chemistry. He has been awarded research productivity awards several times (RPA, 2009, 2010, 2011, 2012, 2013, 2015).
He was awarded PAS Dr. Atta-ur-Rahman Gold Medal in Chemistry (2016) for Scientists under 40. He has produced 17 M. Phil and one Ph.D. during last eight years and currently supervising eight M.Phil and five Ph.D. students.
Baig has made over 170 scholarly contributions of peer-reviewed research papers (Impact factor more the 450; h-index 39; Citation 4,532 (Scopus); h-index = 45; i10-index = 110; citation 6457; June 2021 google scholar).
Baig received his MS leading to Ph.D. in Analytical Chemistry from NCEAC, University of Sindh at Jamshoro (Sind, Pakistan) in 2011 under the supervision of the Professor Dr. Tasneem Gul Kazi
He was appointed to the NCEAC at University of Sindh, Jamshoro in March 2013 as an Assistant Professor. He was still working in NCEAC on the same position. He was also awarded MBA (HRM) from KASBIT, Karachi (2015).
My Expertise
Nanoparticle/nanocomposite synthesis and applications
Environmental impact studies
Assessment of nutrients and phytochemicals in vegetables/fruits/grain crop
Electrochemical method/sensor development and their analytical application
Water and soil monitoring and assessment
Elemental related epidemiological and clinical studies
Field of Research
Nanoparticle/nanocomposite
Environmental Analytical Chemistry
Applied Agricultural Research
Electroanalytical Chemistry
Clinical, biochemical and epidemiology
Phytoremediation
Separation Technology
Current Research Interest
He has studied in multidisciplinary research related to the environmental pollution studies of water, soil, quality control measurement for consumer commodities, food, spices, impact on the human and remediation of toxic elements from water using indigenous natural and synthetic materials. Currently, working on the cheapest efficient and selective sensor development for the detection of toxicants and pharmaceutical formulations in complex matrices as well as removal of toxic metals and anions by using plant based synthesized nanocomposites.
Projects
Research project on "Evaluation of chromium speciation in drinking water, domestic wastewater and industrial effluents of Sindh, Pakistan and its bio-remediation" funded by The World Academy of Sciences (TWAS). The total cost of the project is Rs. 2.538 millions. PI Dr. Jameel A. Baig (2014-2015)
Research project on "Metal oxide nano-composite based strategies for detection and remediation of selected toxic metals and anions from contaminated water in Pakistan" funded by Higher Education Commission (HEC) Pakistan with amount of funding Pk 2,776, 501 (starting in July 2019).